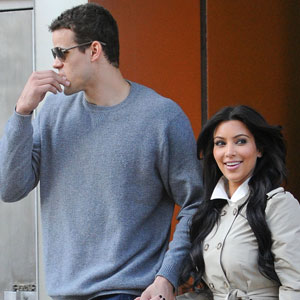 In just 72 days after their $10 million wedding, Kim Kardashian filed for divorce from Kris Humphries on Monday. Us Weekly also reported a major friction between Kardashian and NBA star Humphries, 26. The newylweds are "not getting along at all," one insider said. "Kris is not drinking the Kardashian Kool-Aid, and it's causing major problems."
While Kardashian, 31, juggles her reality shows and multiple moneymaking ventures, the basketball hunk 26, is unemployed thanks to the NBA lockout -- and partying up a storm on his wife's dime.
The pair wed lavishly in Montecito, Calif. after just nine months of dating. Kim Kardashian will not pay Kris Humphries a red cent in their divorce. TMZ has learned. Kim and Kris have a prenup. Wise move Kim.
Source TMZ, omg